Our Story
Brandon Sanderson first opened Sterling Forest Products, Inc. for business in 2000. He used his knowledge of the industry to forge relationships, and with those came lumber sales. At Sterling, we continue the six-generation legacy of building materials sales and distribution. Brandon and Josh, a father-son duo, lead the charge providing a heartbeat of constant consistency for our customers.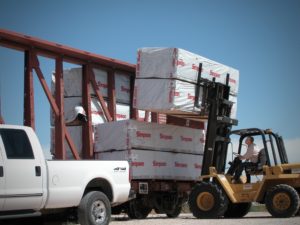 Our Approach
At Sterling we have deep roots in serving Texas, Oklahoma, and New Mexico. We have grown to serve the lower 48 states as well as select international markets. As the company has grown, so have our product offerings. Today, we offer a variety of products including:
Softwood Lumber
Treated Lumber
Hardwoods
Panels
Cedar and Redwood
Industrial Products
Specialized Construction Products
Our main focus is large volume building products distribution. Over the years we have developed creative and effective methods to meet our customer's needs. Through customized plans for each customer and industry leading VMI programs, we are able to efficiently provide for each customer's varying levels of consumption.
From Past to Present
Many generations have formed who we are today. We have perspective from a variety of holdings, and freely share that expertise to aid our customers as they grow and develop.
J.L. Badley
J.D. Badley
Robert G. Sanderson
Brandon G. Sanderson
Fifth Generation
President & Trader
Joshua Sterling Sanderson
Sixth Generation
Vice President & Trader
Next Steps...
Our team makes sourcing building products joyful and effortless. Give us a call today!